****Trigger Warning and Spoilers Ahead!****
Last night I sat with my family to catch up with the latest season of Downton Abbey on ITV player, as we had missed episodes the last two episodes of season four. Last year's season had tragically killed off two main characters from the show (and one on Christmas day, no less) and episode one was the grim aftermath of that death, but still we watched, expecting the usual upper class drama and light humour.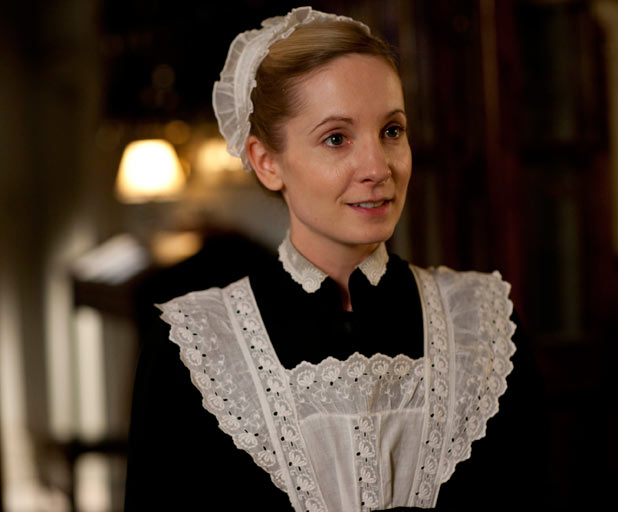 I clicked to watch episode three and received a minimum age warning to play the episode. Odd. Downton is normally a 12 certificate in the UK. The warning didn't explain the reason and I carried on regardless. As the episode played out, it slowly dawned on me what the warning was intended for. During the climactic end moments of the episode as the visiting singer Dame Nellie Melba performs, the kind and happily married Anna, is brutally raped by one of the visitors to Downton, unbeknownst to the rest of the house.
(Side note: I don't wish to glorify the subject, so will avoid the use of provocative words while trying to discuss my thoughts on this episode, for my own sanity and the readers!)
To my relief, the show spared the audience too many details, but needless to say it was cruel and violent and cut me to the core. It then returns to the warm, happy party upstairs and an utterly agonising wait to see Anna's fate ensues. Eventually Mrs. Hughes returns to her room to find Anna there begging for help. It was incredibly distressing to see, made all the more unbearable by Joanne Froggatt's spectacular performance.
It was a shocking and poignant, but I'm not writing this to criticise this episode, nor to applaud Julian Fellowes' 'tackling' of the subject, but rather to ask,
why?
Earlier that day, I had watched the documentary '
Miss Representation
' on Netflix, highlighting the issues of over/hyper sexualisation in the media for women and men and there were parts of that were difficult to watch. I won't go into detail but it's a very important and fascinating documentary that I urge you to watch. In a nutshell, seeing the effects of sexism in America was deeply depressing. Here in the UK statistics are significantly better for women, but even so, any abusive act towards women is terrible and seeing poor Anna in that situation really pin pointed what I had seen that day.
In recent years I've noticed that when the media highlights an issue, it is fully demonstrated for audiences for the sake of 'awareness'. So if there is a concern that someone wants to do something about, they tend to do it by showing how bad it is. This can be effective, but it's very difficult to then take the next step, which would be someone
overcoming
the issue or showing how it doesn't have to exist any more. When a popular show like Downton raises the issue of sexual assault, while it is certainly still prevalent, it is one of possibly many demonstrations of how bad it is. Furthermore, if you take the statistics from
Miss Representation
of the number of women who have been raped in America, that is potentially 1/8 of your audience who will relive a traumatic experience or more likely refuse to watch it.
Am I saying that all instances of abuse should be avoided in media for the sake of the audience? No. Of course it is important to remind viewers that these problems exist for a great many people. However, media should be taking extreme care and caution with these subjects so that they are not glorified. While I do believe this episode of Downton
was
skilfully and carefully approached, I still hated to see it happen. The dance outing to York with Rose and Anna, the punch-up at the dance venue, the stranger who came to Downton in the middle of the night to seek Rose afterwards, all of these subtly pointed to the horror to come. But for it to happen to Anna was truly heartbreaking.
Perhaps Julian Fellowes is pleased that myself and others suffered so much at the results of his writing, as writer, you want to stir emotions in the viewer, but is sexual assault really the best way to do this? Does it draw attention to the ugliness of it, or is it glorification? I don't watch a lot of Television, so I don't know if this episode is making any particular point compared to what else is on at the moment.
I admit, as horrible as it was to watch, it was very carefully put together. It was short and showed just enough to know that it happened without telling everything and the assault was definitely negatively portrayal and to be taken seriously. The question is, what will be done with it? From the preview for next week's episode, it looks like Anna and her husband, Mr. Bates are drifting apart, from Anna's trauma and inability to tell him what happened. Where they go with it will play a big part in what the whole point of that scene was. Why put the cast, crew and audience through this experience if you're not going to say something about it?
I patiently await what this Sunday's episode will bring as I try to shake off yesterday's feelings.
Gemma